The terms radiation and radioactive can sometimes be used wrongly, not because they are not related (which they are), but because their meanings are quite different.
Radiation is energy in the process of being transmitted.
If something is radioactive it is giving off radiation.
EVERYDAY RADIATION
Things around us in our everyday lives give off some level of radiation; buildings, bananas, Brazil nuts to name a few. They don't all begin with the letter 'b' either!
This means we are constantly surrounded by radiation, but do not feel the effects of it.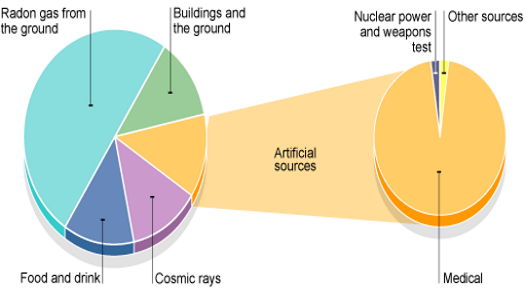 Background radiation is the largest natural source of radiation we are exposed to; medical procedures are the biggest source of artificial radiation.
Granite is a type of natural rock that is used for buildings, such as New York's Grand Central Station. But did you know that granite (and therefore the buildings made from it) is radioactive? This means people walking through the station are exposed to small amounts of radiation!
Radium, a naturally occurring radioactive material in earth affects the growth of foods like Brazil nuts, bananas are genetically radioactive, it's written in their genetic code.
Don't worry though, just because you are eating radioactive food, does not mean you become radioactive yourself! Or should we say, more radioactive, as humans are themselves radioactive to a small extent.
In fact, humans are more radioactive than bananas!
Oh, and radioactive things do not generally glow bright yellow or green, this is just in the movies!
TYPES OF RADIATION
As we mentioned above, radiation is described as energy in the process of being transmitted.
This includes light and sound.
Looking at the electromagnetic spectrum, you can see the range from radio waves to gamma rays.
As you move along the spectrum, the more radiation is detected.