Hydrogen is an extremely valuable material.
It can be used to separate crude oil so we are left with many more useful products such as diesel, petrol and jet fuel. We can add and take away from it to produce new useful by-products, as well as use it as a cleaner replacement for fossil fuels.
All these different uses make hydrogen a big hope for future low carbon energy needs in many different areas. But first of all…
HOW DO WE GET HYDROGEN?
Hydrogen is the most abundant gas in the universe. However, here on Earth it is only found deep in the earth's crust or in other elements that we have to separate it from.
Electrolysis – Electricity can separate water into hydrogen and oxygen, in effect turning electrical energy into chemical energy. This is carried out using electrolysis. To keep hydrogen production as clean as possible, electricity produced by renewable or nuclear energy is preferable.
Steam methane reforming – This is the most common way we currently produce hydrogen. Methane (the main element in natural gas) reacts with oxygen or water, to produce hydrogen and carbon dioxide. The carbon can then be used as a building material or in other useful ways. If we can add Carbon Capture and Storage to this process, we can cut down the harmful emissions produced by the carbon dioxide.
Biomass –Biomass materials can go through a process that produces hydrogen, which again when carbon capture is used, can result in very few emissions.
Now we know how to get it, what can we do with it?
HEATING
Heating makes up to 85% of the energy we use at home, on keeping both ourselves, our food and our water as hot or cold as we need (or like!).
Gas is the most common energy source, used for heating spaces in 84% of homes, and for cooking hobs in 61% of homes.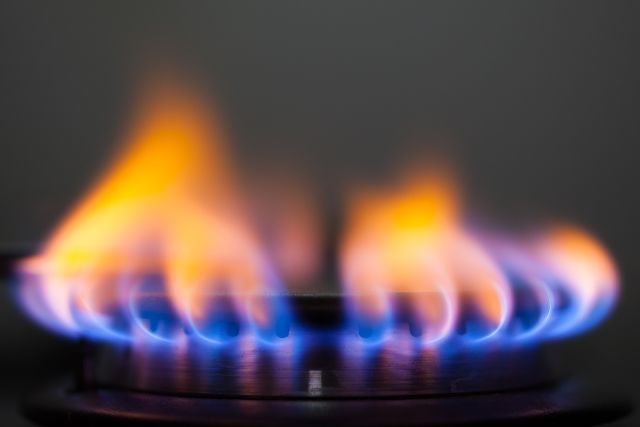 While natural gas is the cleanest of the fossil fuels, it still produces carbon dioxide when burned (combusted). So what if we could swap all that natural gas for hydrogen? Hydrogen does not give off any carbon dioxide when combusted, meaning it is a cleaner alternative to natural gas.
There is a major project happening in Leeds called H21 Leeds City Gate, which aims to see if the city's current natural gas that it uses for heating can be switched with hydrogen. However, natural gas would still be needed in order to get the hydrogen to begin with (see steam methane reforming above).
This involves quite a lot of work changing the original metal pipes that transport the gas around the city, to plastic pipes that can handle hydrogen (as metal pipes can't), as well as making sure the appliances (such as ovens and boilers) are able to work with hydrogen rather than gas.
However, the changes that need to be made to the pipes is small compared to the time, money and effort saved by using the original motorway-like pipe network that the city already has underground. This work is already being carried out across the UK, separate from the Leeds project.
If this project works in Leeds, your city could be next!
TRANSPORT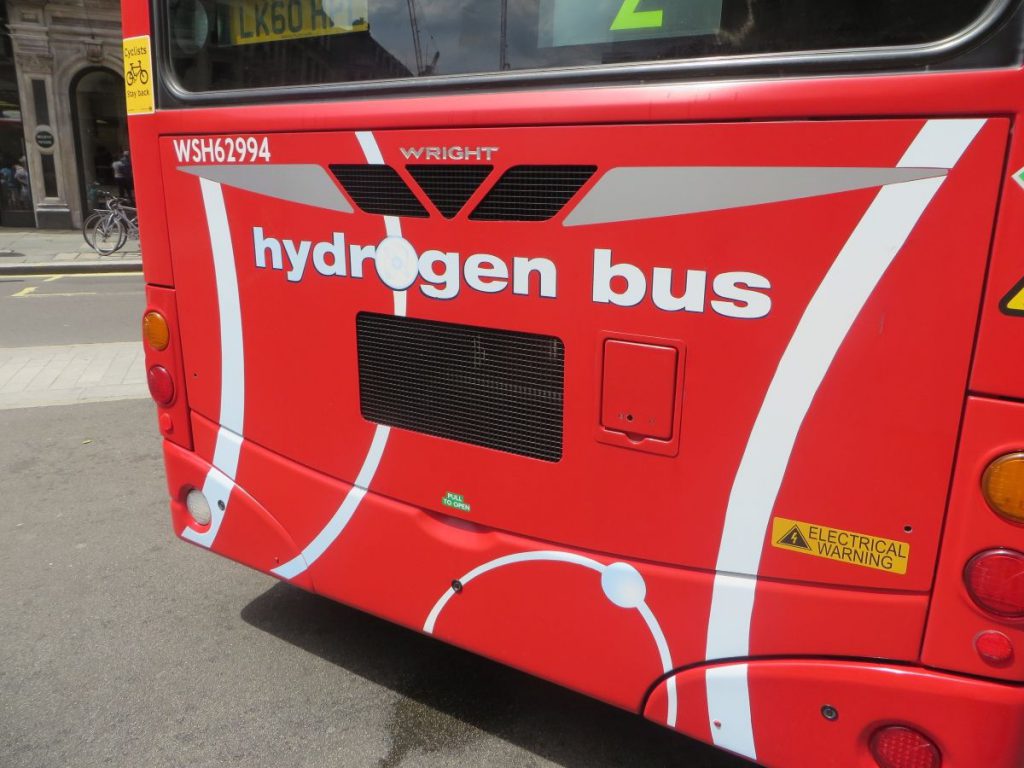 Transport is the biggest user of energy in the UK, so any changes we can make to produce less carbon dioxide in this area would make a huge difference to the climate.
Oil is the main source of energy used for transport, taken from the ground in its natural state before then being broken up into more useful parts (fractions) such as diesel and petrol. However, electric transport is beginning to grow in popularity, as are alternative fuels like biofuel and hydrogen.
Hydrogen fuel cells produce electricity by reacting hydrogen (the fuel) with oxygen. This electricity then powers the motor to move the car (or bus, or lorry, or train!)
Again, hydrogen does not produce any carbon dioxide when combusted, while diesel and petrol do. In fact, the only waste product of using hydrogen fuel cells in transport is water!
If we can change our transport from fossils fuels to hydrogen fuel, then we could cut a massive amount of carbon dioxide from the atmosphere. This would have a positive effect on air pollution levels too, which can seriously affect health.
Find out more about air pollution here.
STORAGE
Hydrogen is one of several solutions being researched as an alternative method to batteries for storing energy when it's not needed, so that we're not losing any valuable energy that we could use at a later time.
Electricity can separate water into hydrogen and oxygen, in effect turning electrical energy into chemical energy. This is carried out using electrolysis.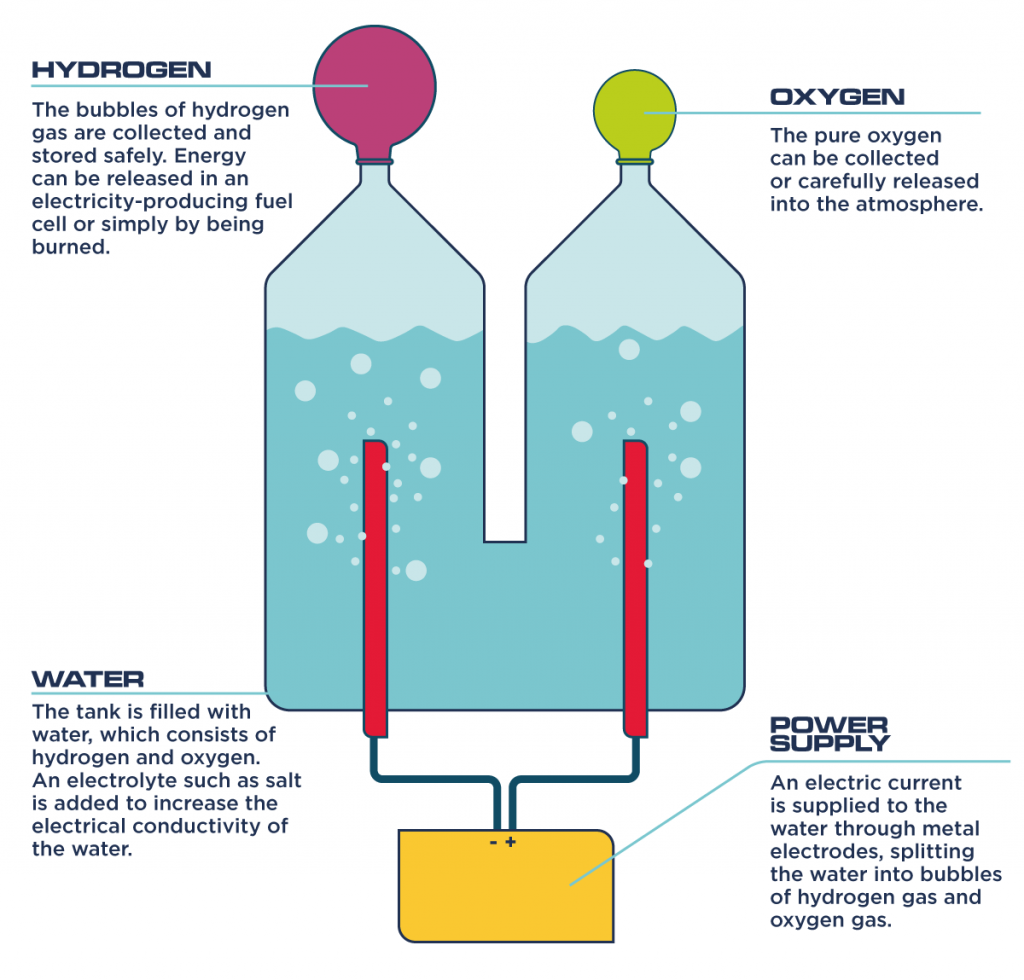 The hydrogen produced is one way of storing excess electricity, being stored underground in empty oil and gas caverns or salt domes.
Hydrogen can be mixed with carbon dioxide to produce methane and water. The methane is stored and used to produce electricity, while the water can be recycled for use elsewhere. Methane can be passed through gas turbines, used in compressed gas vehicles or for heating.